Australian Organ Concert with Dr Joseph Nolan
October 12th at 7.30pm
St Hilda's Anglican School for Girls
Free Entry
---
Introduction
Through active involvement with forward thinking programmes, Viscount Classical Organs helps provide access to music and musical development to the wider educational and ecclesiastic communities. Help us do the same in Australia.
Experience a world-leading musician on a fantastic instrument and see for yourself why both Canterbury Cathedral and York Minster chose a Viscount digital organ to cover the periods of their pipe organ restorations.
Hailed by the Sydney Symphony Orchestra as 'one of the world's leading organists,' we are delighted that Dr Joseph Nolan will play this recital for us.
---
Organ Concert Programme
Sinfonia from Cantata No 29 Bach arr Dupre
Choral No 2 Franck
Sonata No 1 Guilmant
Interval
Symphony No 6 Widor
---
Date, Location, and Ticket Information
October 12th 2019 at 7.30pm
Entry Free – No Ticket Required
St Hilda's Anglican School for Girls
(School Chapel)
26 Bay View Terrace
Mosman Park
WA 6012
---
About the Organist – Dr Joseph Nolan
Multiple award winning British-Australian organist Dr Joseph Nolan has been hailed by ABC Classic FM as 'an extraordinary musician' and BBC Radio 3 CD Review as a 'virtuoso'.
Joseph graduated with distinction from the Royal College of Music, London, undertaking postgraduate studies with the legendary Marie-Claire Alain in Paris for two years supported by scholarships from the Countess of Munster Trust and Hattori Foundation.
He then returned to London and was appointed to Her Majesty's Chapels Royal, St James's Palace where he performed many times at Buckingham Palace, including giving the opening concert of the refurbished Grand Ballroom organ.
Joseph Nolan's recordings of the complete organ works of Charles Marie Widor on the most famous French organs for award winning label, Signum Records, have been awarded multiple Editor's Choices and five star reviews in Limelight, Gramophone and BBC Music Magazine. Very notably, Gramophone named the final disc of the Widor/Nolan cycle as a Critics Choice of 2017.
Joseph was made a Chevalier des Arts des Lettres by the French government in 2016 and an Honorary Fellow of the University of Western Australia in 2013. Following Joseph's appointment as Master of Music at St George's Cathedral, Perth in 2008, the Cathedral music programme has been described as 'elite, faultless and world-class' by the Australian and West Australian newspapers.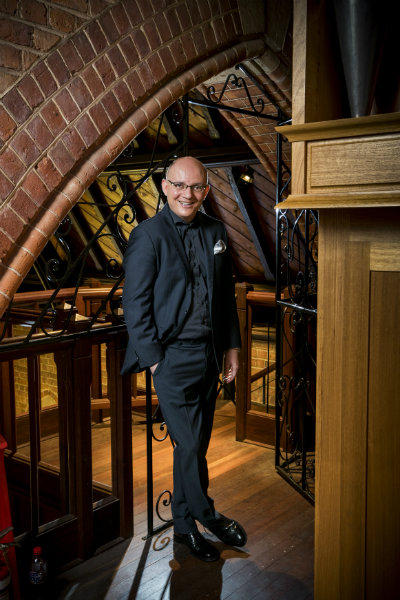 ---
The Viscount Organ being played
The Viscount Envoy 35-F is a 'Physical Modelling' based instrument with 35 stops in a real wood veneer cabinet. It has a huge internal library allowing the user to create 4 totally individual voice pallets from classic English through Baroque and Romantic.
It benefits from a full complement of divisional thumb pistons and additional toe pistons. This organ also has a full 32 note pedal board.
The Envoy 35-F is a very popular church organ but is really suitable for all environments. It works great as a practice instrument at home or in a school or can be used in concert halls and venues as well as large cathedrals.
---
The Venue
St Hilda's Anglican School has been educating girls for more than a century, growing from a small school established in a private house in Claremont in 1896 to one of Australia's pre-eminent independent girls schools.
Located in Mosman Park, they have two distinct campuses: one at Chidley for students in Junior Kindergarten, Kindergarten, Pre-Primary and up to Year 6 and the original campus on Bay View Terrace accommodating the Senior School and the Boarding House.
---
With this launch concert we are delighted to announce that Viscount's quality 'English Voiced' organs are more easily available in Australia. This follows a distribution and installation partnership established with 3 Monkeys AV based in Newcastle Street Perth. Read more about the instruments and services provided to our Australian customers, including price information and contact details.