The hymn tune Cranham is best known to us for the Christmas carol "In the bleak midwinter". Relf Clark's chorale prelude on the tune is from An Oxfordshire Organ Book, published in 2019 by the Oxford and District Organists' Association. (You can find out more about this collection of pieces in the general introduction to this year's tutorials.)
"Cranham" – a useful interlude or prelude to a carol service
Although it's not quite the bleak midwinter yet, at the time this first goes out, "Cranham" is possibly a piece that organists could learn in time for Christmas. It could make a useful interlude or prelude to a carol service, for example. The composer, a member of the ODOA, explains in his biography that this work (in its original form) had its first performance in 1999 at Chichester Cathedral, where Holst's ashes are deposited. (Holst is the original composer of the hymn tune on which this piece is based.)
The piece is marked simply to be played on manuals I and II, with II holding the accompaniment, and I having the melody in the tenor. It gives the organist a lot of flexibility when choosing a registration. In discussion with Francis Rumsey at the start of this tutorial, Jonathan Kingston explains that he's chosen to use a sort of orchestral string sound for the tenor melody, with a mild tremulant to add expressiveness. The accompaniment is done on a simple eight foot flute on the Great, alongside 16' and 8' flutes on the pedal.
The accompaniment has two voices most of the time, and Jonathan points out that they can be played with one hand while the left hand is playing the hymn melody, as the voices are fairly close in the compass. When not playing the melody the left hand can assist, and the accompaniment can be split between the hands where the intervals are slightly greater.
No particular articulation is marked in most places in the pedal line, so the organist needs to decide how to treat the underlying bass part. Jonathan suggests that it depends partly on the acoustics of the place in which one is playing. The pedal line is essential for a sense of positive momentum, so he chooses to pair the quavers for the most part, occasionally separating them for emphasis, and typically with a slightly heavier emphasis on the first beat of the bar.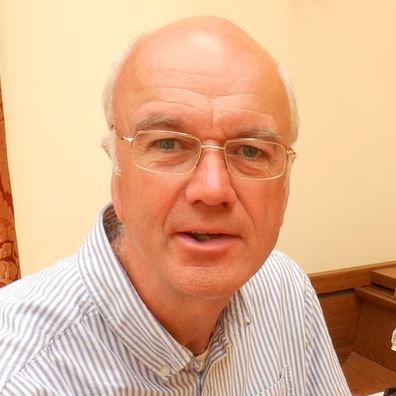 I'm a retired academic, with a background in music and audio engineering. I'm currently a consultant for Viscount & Regent Classic Organs, as well as being a freelance organist, including a role as organist/choirmaster at St Mary's, Witney. I sing bass with Oxford Pro Musica Singers and the Cathedral Singers of Christ Church, Oxford.