During the 1960s and 70s it was a fashionable thing among musical elites not to like Stainer's music. My professor of music when I was a student used to relate the possibly bad taste old joke "what do you think of Stainer's Crucifixion?" (I'll leave you to figure out the punch line).
There are some in church music circles, though, that have continued to perform and enjoy Stainer, our musical director for this tutorial series, Ralph Allwood, being one of them. Indeed Stainer's most famous work, The Crucifixion, has enjoyed something of a revival in recent years, being one of the few Passion narrative works that can be performed by amateur choirs with reasonable success.
Sir John Stainer was knighted for his services to church music
Ralph explains in his introduction to this tutorial that his grandmother used to sing Stainer's Crucifixion every night of Holy Week, so popular was it at the time. Stainer's well-judged Victorian harmonies and talent for tugging at the heart strings give rise to a surprising musical beauty and crowd-pleasing effect. (Is this why composers of "serious" music are disparaging, one might ask?)
Stainer lived from 1840–1901 and was knighted in 1888 by Queen Victoria for his services to church music. He started out early as an organist, holding playing positions while still a youth. He went on to become organist at Magdalen College, Oxford, and from there to St Paul's Cathedral, succeeding John Goss. Stainer was a fine academic, Ralph points out, it having been said (the Stainer jokes go on…) that they couldn't find anything else for him to do so eventually they got him a job as Professor of Music at Oxford. He writes beautifully for the voice, adds Ralph.
How beautiful upon the mountains
The piece in question here is Stainer's anthem "How beautiful upon the mountains", based on a text from Isaiah 52:7, and first published around 1880. The words are these:
How beautiful upon the mountains
are the feet of him that bringeth good tidings,
that publisheth peace; that publisheth salvation;
that saith unto Zion, Thy God reigneth!
The voice parts enter in stages, one by one, building up the layers of the musical texture beautifully. The highest harmonic tension is reserved for the last line of the text, and the work ends very quietly on the repeated words "that publisheth peace". Ralph comments about Stainer's tempo marking (the quaintly Victorian Andante religioso) wondering what is meant by the second word — does it mean "slow", he asks? Not in his book — surely it should be joyful! It's like adding espressivo, he suggests. "Don't we always sing espressivo?" So he proposes that the choir crosses out religioso and just sings the piece Andante.
This is a piece that might speak liturgically of the Advent season, announcing the coming of Christ, but could be suitable as a short anthem for almost any time of year.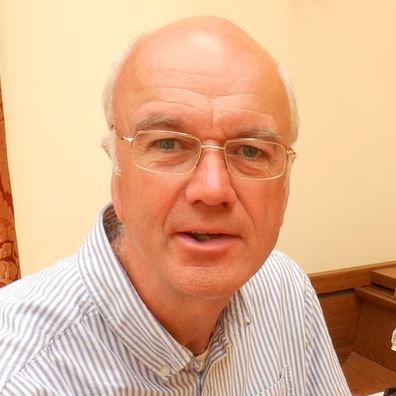 I'm a retired academic, with a background in music and audio engineering. I'm currently a consultant for Viscount & Regent Classic Organs, as well as being a freelance organist, including a role as organist/choirmaster at St Mary's, Witney. I sing bass with Oxford Pro Musica Singers and the Cathedral Singers of Christ Church, Oxford.