This splendid partita is taken from An Oxfordshire Organ Book, published in 2019 by the Oxford and District Organists' Association. (You can find out more about this collection of pieces in the general introduction to this year's organ tutorials.)
The partita is based on a hymn tune, Merton Chapel, which was written by Maggie Pemberton in 1980, while she was a singer in the chapel choir at Merton College. Péter Szeles has written a harmonization and set of variations.
Jonathan and Francis discusses Partita super Merton Chapel
The piece starts out with a statement of the hymn theme, which is in three time and the key of D minor. Francis and Jonathan discuss the suggestion that this could well be rendered on a fairly typical eight- and four-foot diapason chorus.
Variation I is then indicated as "Grand choeur"—perhaps intended not so much as a registration requirement but rather a stylistic intention. Sections are marked to be played on one of three manuals, ranging from piano to forte in loudness, but this can equally well be managed on two, with the loud section having the manuals coupled. Jonathan's registration starts with the swell on 8', 4' and a small reed stop, then choir as 8, 4, 2 coupled to swell, and finally the great including 12th and 15th coupled to both the other manuals.
The second variation is marked "Pastorale", and includes a lilting accompaniment played on an eight-foot flute, over which the melody is played on an oboe. (This could easily be adapted for whatever resources are available on one's own instrument.)
Finally, Variation III is a short toccata, marked tutti. Jonathan employs the pedal reeds, the melody being sounded in the pedals in classic French style, together with a bright registration involving the mixture stops on the manuals. For the last few bars he brings on the big guns of the chorus reeds, and finally some sixteen-foot tone on the manuals.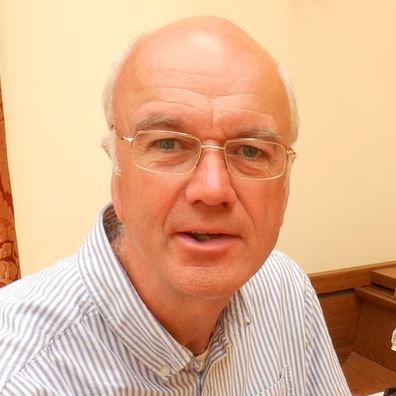 I'm a retired academic, with a background in music and audio engineering. I'm currently a consultant for Viscount & Regent Classic Organs, as well as being a freelance organist, including a role as organist/choirmaster at St Mary's, Witney. I sing bass with Oxford Pro Musica Singers and the Cathedral Singers of Christ Church, Oxford.