If you have read our most recent blogs, you will know that we have been delighted to be able to help a number of young organists over the last year with home practice instruments. This is because Covid has prevented them from using instruments in churches as they would normally.
Our practice instruments have been crucial in helping some of them gain organ scholarships for 2021, and we couldn't be more delighted.
As well as individual requests, we also get asked to help with larger organ outreach schemes. One such scheme was for Holy Trinity School in Ramsgate where we were delighted to loan a Chorum 40s for their pupils to practice.
The scheme was conceived and masterminded by the Fr Paul Blanch and you can read his story here.
The background of the Organ tuition dream in Holy Trinity School, Ramsgate
When I arrived in this parish as Rector in October 2019, one of the first things that really impressed me was the linked Church of England School. Music was a very high priority and the lead teacher in music Mr Sean Darrock was producing choral music to a very high standard, far higher than I had ever experienced in junior schools over my 35 year ministry.

School worship was of such a high standard and the choir sang for my Induction so professionally. This recognition helped them achieve other ambitions like singing in Canterbury Cathedral for the Enthronement of the Bishop of Dover, as well as singing at Westminster Abbey and we have a day booked for a visit to Kings College Cambridge.

Further conversations with Mr Sean Darrock led me to speak of an idea I had previously discussed with David at Viscount regarding a loan instrument to teach organ to new students as part of a school music curriculum. Sean took up the idea with me, and as I explored the Organ loan with Viscount, Sean approached the Royal College of Organists and the RSCM for support and possible funding.

Viscount very generously agreed to loan the organ free of charge and the RCO came up with funds to provide a teaching bursary, and this currently has two pupils being taught by the Organist of St Augustine's Abbey here in Ramsgate. The RSCM are still watching and are hoping to use this as a pilot scheme that they may roll out in other areas of the country.

At present we have two pupils under tuition on the Viscount paid for by the RCO.

Organ students at Holy Trinity School Ramsgate

Organ music at Holy Trinity School Ramsgate

BBC Radio Kent have given great coverage on their afternoon show, and BBC South East Today have also featured the project.

We are delighted the project is off the ground and look forward to more pupils taking up the scheme.

Fr. Paul Blanch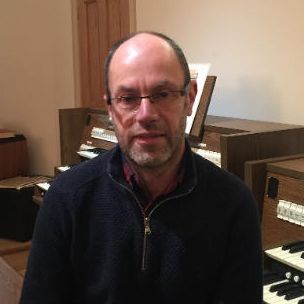 I have played the church organ since the age of 11. I am organist at my local catholic church as well as accompanist for a small choral group and keyboard player in a function band. I am committed to ensuring Viscount customers get industry leading service and advice, resulting in the very best organ to suit their needs, be it church, school, home or concert hall.