In this brief exposition of psalm singing, Ralph Allwood teaches the choir how to perform Psalm 126, to a chant by George Garrett. Garrett was Director of Music at St John's College, Cambridge, between 1856 and 1897, and it is for this psalm chant that he is probably most widely known.
As Ralph explains in his introduction, Psalm 126, although written a very long time ago, is as appropriate for our current age as it was then. It's a lesson in how things go up and down in people's lives—fortunes go up and fortunes go down, he says, and when things turn down they usually turn up again at some point. This is therefore a class in optimism, or death and resurrection perhaps, the question being how do we look on the bright side when things are bad? This has always been a problem for humans, says Ralph, even going back 3000 years.
In the psalm text the children of Israel remember their earlier release from captivity, and the joy that they felt. Ralph likens this to the Covid pandemic of today, how one day we have to stay in our houses and the next we can go to favourite pubs again. He explains that verses three and four are about how others ("the heathen") looked at the children of Israel and wondered at what the Lord had done for them, and they replied something like "he sure has mate, isn't that great!"
Then in verses five and six there is a plea to reverse their current fortunes (they're in captivity again), "like the rivers in the south". Ralph explains that the rivers in the south of the country were in fact tidal, and so this is another allusion to the way in which things go out and come back in. The last two verses suggest that continuing to strive positively, even though one may be in pain and weeping, can bring a great harvest and abundant joy.
Garrett's chant supports the text admirably using harmonic progression. Written in A major, it finishes the first half on the dominant of F sharp minor, holding the tension of the waning fortunes or pleas mentioned in the text. The second half lurches right back to the positive-sounding A major, modulating to D by the end of the third quarter, then using the dramatic device of a so-called "German" sixth (one of a family of augmented 6th chords, useful for quick modulations) to haul us back joyfully to the end.
1 When the Lord turned again the captivity of Sion : then were we like unto them that dream.
2 Then was our mouth filled with laughter : and our tongue with joy.
3 Then said they among the heathen : The Lord hath done great things for them.
4 Yea, the Lord hath done great things for us already : whereof we rejoice.
5 Turn our captivity, O Lord : as the rivers in the south.
6 They that sow in tears : shall reap in joy.
7 He that now goeth on his way weeping, and beareth forth good seed : shall doubtless come again with joy, and bring his sheaves with him.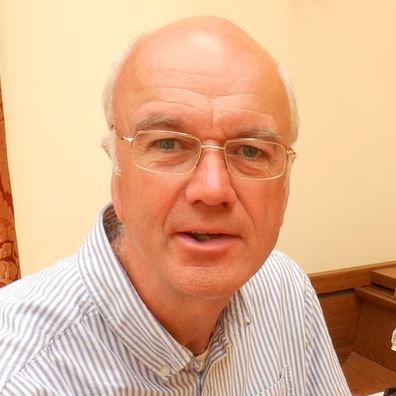 I'm a retired academic, with a background in music and audio engineering. I'm currently a consultant for Viscount & Regent Classic Organs, as well as being a freelance organist, including a role as organist/choirmaster at St Mary's, Witney. I sing bass with Oxford Pro Musica Singers and the Cathedral Singers of Christ Church, Oxford.