Our newest recruit, Richard Patt, talks about how his father's love of the organ influenced him and how a chance meeting in a music shop led him to marrying the love of his life.
My interest in the organ started when I was eight years old. My father, a green grocer and ice-cream maker, felt that he needed an interest outside from work to help him relax in the evening. He decided he'd like to play a musical instrument and enrolled in a free Yamaha Music School taster session on the electronic organ. He was hooked, enrolled in a full course and purchased a Yamaha BK4C two manual spinet organ.
From beginner to first church service
I'd previously had very little interest in music but my interest was sparked the day the organ was delivered and I started to have a go myself. My dad decided that if I was going to learn, he would rather I had one-on-one lessons. We found a local church organist called Sidney Perrin who was organist and choir master at Stoke Church in Hartland, North Devon.
After a year playing the Yamaha, I was introduced to the pipe organ. I loved it and started lessons on a beautiful Sweetland pipe organ at the URC church my parents went to in Bideford. The organ was affectionately known by the congregation as the old lady of Lavington. I vividly remember the very first service I played there – I practised the four hymns for weeks and weeks beforehand.
A relocation, two ladies' choirs and a wedding
In the mid 90's I moved to Plymouth to work in a general music shop. I had taken up a post at St. Matthias church in North Hill (the only church in Plymouth not bombed in the war due to its use as a navigational marker) on a three manual Hele instrument and joined a local ladies' choir as their accompanist.
One particular day, a customer visited the music shop looking for a new piano for his ladies' choir, the Looe Valley Singers. We selected the model of piano most suitable for him and he said he would ask his accompanist, Emma, to phone me as he wanted to make sure she was happy with the specification of the instrument.
The two choirs began doing joint concerts and I started to deputise for Emma when she had work commitments. Move forward to the present day and Emma and I have been married for 16 years and have an 11-year-old daughter and a two-year-old Collie/Springer cross.
Sclerder Abbey
We were married at Sclerder Abbey which is where Emma's dad is an RC Deacon and where we all go to church. I am now the regular organist and help to lead the choir.
Sclerder itself has an interesting history of its own, founded in 1843. Most recently it was home to an enclosed order of Carmelite nuns who came from Quidenham in 1981 and stayed until 2014.  It is now home to the Chemin Neuf, an ecumenical Christian community who use it as a base to run retreats and courses.
The organ that came with the nuns
The organ (originally a single manual Rushworth and Dreaper built in 1960) resided at Quidenham Monastery until around 2000.  After installation at Sclerder it was enlarged to a two manual instrument by local organ builder Lance Foy.
As you will see from the images, it is a grand yet pretty instrument with the Swell organ in the main organ case and with the console and the Great and Pedal divisions on the west wall. The organ is an extension instrument (so quite a lot of borrowing) and is powered by three individual blower motors.
Organ specifications
Swell: Dolce 8, Aeoline 8, Voix Celeste 8, Gemshorn 8, Flageolet 2
Great: Quintaten 16, Montre 8, Stopped Diapason 8, Prestant 4, Stopped Flute 4, Doublette 2, Fourniture 3rks
Pedal: Bourdon 16, Bass Flute 8, Octave Flute 4
Couplers: Great to Pedal, Swell to Pedal, Swell Sub Octave, Swell Super Octave, Swell Unison Off
Viscount are delighted to have Richard on board. If you would like to contact him, you can email or call him on 01869 247333.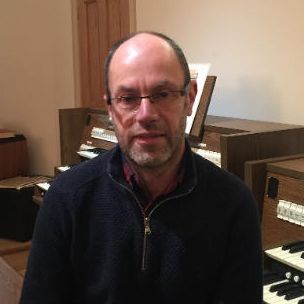 I have played the church organ since the age of 11. I am organist at my local catholic church as well as accompanist for a small choral group and keyboard player in a function band. I am committed to ensuring Viscount customers get industry leading service and advice, resulting in the very best organ to suit their needs, be it church, school, home or concert hall.