As our hire business grows and we are involved in more long term installations, we are increasingly finding that we are working at considerable heights. This was the case with the organ installation at Tewkesbury Abbey where work on the pipe organ is scheduled to last for about 4 months.
The work involved there is mainly to the console and other mechanical parts. Pipe work and voicing are not being touched.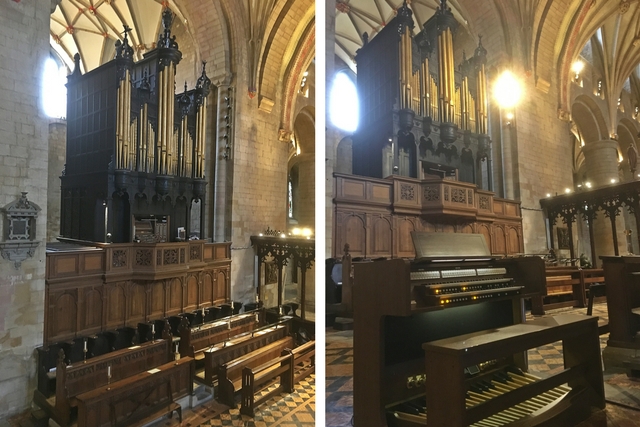 Speaker placement and installation
Most of the speakers are on the triforium but space above the vergers vestry was also used to get some greater separation between the departments. On this particular occasion the instrument, a 2 manual Envoy 35-FV was loaned to Tewkesbury by Dean Close School so our role was limited to the provision of the audio package, 12 speakers and a sub bass and of course the voicing of the instrument after the installation.
While there is a stair way to access the triforium level it is only 14 inches wide and the speakers at 15 inches could not go by that route so we were forced to erect a large scaffold tower and use that to place the speakers at triforium level. When working at triforium level a special harness has to be used with the person physically clipped onto safety rails so a fall to floor level is impossible.
Minor adjustments to the organ
We did though make a small adjustment to the specification of the standard Envoy 35 adding 3 extra stops to include a 32 foot reed on the pedal. A 32 ft reed is standard on 3 manual instruments but seldom found on any 2 manual pipe organ so not part of the stop list for our 2 manual instruments. Tewkesbury is a very large building so it was appropriate to add it for use there.
The other additions were a sharp mixture to the Great and a third 8 ft reed for the Swell. So for the next few months Tewkesbury will be relying on the Viscount instrument to support services and we can look forward to another mountaineering style recovery of speakers in the early summer. To listen to our organ being played click HERE
I have had a passion for church organs since the tender age of 12. I own and run Viscount Organs with a close attention to the detail that musicians appreciate; and a clear understanding of the benefits of digital technology and keeping to the traditional and emotional elements of organ playing.