Are you looking for organ music for Christmas? Here is a list of our favourite Christmas music for the organ.
If you are a church musician (particularly if you are an organist), you'll know that there is one liturgical season where it's easy to choose the music, and that is Christmas. There is a treasure trove of carols to choose from, many of which can only be used during this season. People expect to hear them and everyone has their favourite.
Here at Viscount Organs, we thought it would be fun to come up with our own top 10 Christmas playlist of organ music. You can find our selection below. It's not limited to just carols, and the pieces are in the order they occurred to us.
See if you agree with our choices or maybe make up your own top 10 Christmas playlist.
1. The Holy Boy
This is a piece that both Richards in the office play. Written by John Ireland, it has a melancholy and pastoral-like quality which is beautiful and very restful. We hope you enjoy this arrangement.
2. Prelude on – Unto is born a Son
Herbert Sumsion was Organist and Master of the Choristers at Gloucester Cathedral from 1928 through to 1967.  One of his first jobs at the cathedral was to direct the Three Choirs Festival and he continued to devote his life to both jobs throughout his career. Here is the prelude played by Daniel Cook on the organ.
3. In Dulci Jubilo
A staple of most organists' repertoire and often played after midnight Mass.  Here it is played by the great Peter Hurford.
4. The First Nowell (arr. P Halley)
One of my personal favourites. Apparently, The First Nowell first made its first appearance in print in 1833 and was part of a carol book entitled 'Christmas Carols Ancient and Modern' by William Sandys. This arrangement is sung by the Elora Festival Singers and I just love the striking chords of the last verse.
5. What Child is This (arr. P Halley)
No apologies for another Halley arrangement. This carol was written in 1865 by William Chatterton Dix. Dix had been struck by a severe illness and whilst recovering, had a spiritual awakening which caused him to write several hymns including 'What Child is This', which was subsequently set to the tune of 'Greensleeves'. The last verse of this arrangement has a wonderful dissonance.
6. Jingle Bells
Jingle Bells is a favourite of Annette who works in our office. It was written in the autumn of 1857 by James Lord Pierpoint and originally published under the title of 'One Horse Open Sleigh'.
If honest, I dismissed it, but then wondered if there were any good orchestral arrangements. I found this slightly over the top version sung by the Mormon Tabernacle Choir and accompanied by organ and orchestra. Wonderous!!
7. In the Bleak Midwinter
This popular carol is based on a poem by English poet Christina Rosetti and first published in 1872. The best-known setting is to the tune written by Gustav Holst in 1906, but we think the Harold Darke setting of 1911 just has the edge. Here's a recording by the choir of King's College Cambridge.
8. Silent Night
No top 10 Christmas playlist for the organ would be complete without Silent Night. Composed by Franz Gruber in 1818 to words penned by Joseph Mohr in 1816 and first performed on Christmas Eve of that year.
Before Christmas Eve, Mohr brought the words to Gruber and asked if he would compose a melody and guitar accompaniment for the Christmas Eve Mass after flooding had damaged the church organ.
Here is a simple yet beautiful arrangement for guitar.
9. Hark the Herald Angels Sing
Our colleague Hugh chose this one. What Christmas Eve service would be complete without it?
It was written by Charles Wesley and first appeared in 1739 in the book 'Hymns and sacred poems.' In 1840, Felix Mendelssohn composed a cantata in commemoration of Johann Gutenberg's invention of moveable type printing, and it is music from this (adapted by William H Cummings) that the carol is set to.
Here is a recording from King's College Cambridge.
10. Wachet Auf (Awake, the voice is calling us)
For Advent rather than Christmas. Bach composed this cantata as part of his second annual cantata cycle covering the entire annual church calendar. It is based on the hymn of the same name by Philipp Nicolai. The text covers readings for the 27th Sunday after Trinity.
Many years later Bach himself transcribed the fourth movement – a not uncommon practice in the Baroque – as an organ solo. It then headed-up a set of six chorale preludes published by Johann Schübler, by whose name the set is now commonly known.
Although possibly not to everyone's taste, I quite like this 1954 performance by Karl Richter.
Bonus material – Christmas organ music from Viscount
What did you think of our Top 10 Christmas playlist for organ? Want a little more?
Over the years, we have managed to record quite a few videos of our own Viscount organs. Below are some of these videos following the Christmas theme.
You can find many more videos and organ tutorials on our blog. Explore our website to find out more about the Viscount organ ranges, but please feel free to contact our friendly staff who can guide you through our range and help you find an instrument suitable to your needs.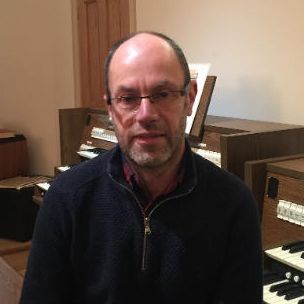 I have played the church organ since the age of 11. I am organist at my local catholic church as well as accompanist for a small choral group and keyboard player in a function band. I am committed to ensuring Viscount customers get industry leading service and advice, resulting in the very best organ to suit their needs, be it church, school, home or concert hall.