John Riley's "Two Pieces for Manuals" are from An Oxfordshire Organ Book, published by the Oxford and District Organists Association. The two pieces in question are entitled "Lullaby in Dorian Mode" and "Mediaeval Rondeau".
John Riley, one-time resident of Oxford, is now a freelance musician based in Edinburgh. In his notes he mentions that the Lullaby in Dorian Mode "explores the harmonic possibilities of that mode and demonstrates simple thematic variation", while the Mediaeval Rondeau "features characteristic dance rhythms, parallel harmony and 'Landini' cadences typical of the style and offers opportunity for improvisation over the fixed bass pattern."
Lullaby in Dorian Mode
Clear registration intentions are shown in the score for the Lullaby, indicating Flute 8 for the upper melody and Flute & Strings 8 for the accompaniment on a second manual.
Discussing the performance of this piece with Francis Rumsey, Jonathan Kingston explains that he's taken a small amount of performance licence here and uses a 4-foot flute instead of 8-foot, as he particularly likes the sound of that stop.
Mediaeval Rondeau in the style of a mediaeval dance
The Mediaeval Rondeau is in the style of a mediaeval dance with a repeating refrain and a number of verses above a fixed chord pattern. The harmony is based on an open fourths and fifths pattern, typical of the early style that is emulated here.
John Riley suggests that the player can choose to improvise additional verses over the basic chord pattern, with elaborate melodic lines if desired. The registration for the verses and refrains could be varied, says the composer, particularly for the solo right-hand melody, perhaps using flute or reed stops.
Jonathan demonstrates a few verses in this way, using orchestral reeds, clarinet, oboe, and even the vox humana for variety in the refrains. The solo melody in the verses typically uses the Great up to Fifteenth (2' Principal), coupled to the other manuals.
The last refrain uses a brighter registration including a mixture, and the eagle-eared will notice that Jonathan sneaks in a few pedal reed notes at the very end for a final flourish.
---
Find more pieces in this organ tutorial series in the introduction to organ performance tutorials 2021.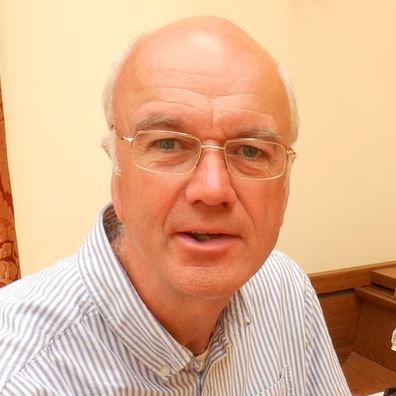 I'm a retired academic, with a background in music and audio engineering. I'm currently a consultant for Viscount & Regent Classic Organs, as well as being a freelance organist, including a role as organist/choirmaster at St Mary's, Witney. I sing bass with Oxford Pro Musica Singers and the Cathedral Singers of Christ Church, Oxford.