It is a vexed question – how long should you expect a digital church organ to last and how do costs compare with repairing your pipe organ?
On a great many occasions on social media I see comments that digital organs will last at best 15 years while a pipe organ lasts a life time. These comments are usually made in the context of trying to persuade a church to retain its pipe organ when considering a digital alternative.
Analysing the purchasing decision of a new Organ
Many of you will know that I am a chartered accountant with a degree in engineering. So I am no stranger to setting out analysis of purchasing decisions in what hopefully is a legitimate and honest presentation of the best available information.
The case of comparing the 'financial merits' of pipes versus speakers deserves far better research than at present exists as I am increasingly convinced that both sides of the camp all too often 'spin' the facts to suit the circumstances.
So if you have the time to read what follows I will try to set out some 'facts' of our recent experiences to help you make your own mind up.
Replacing Pipe Organs and older Digital Organs
Our new church work consists of a mix between replacing pipe organs deemed too expensive to repair and replacing older digital organs. We also have a rapidly growing activity hiring organs to churches that have decided to proceed with pipe organ repairs. As a consequence, we are gathering reasonable information on the various issues that churches grapple with when deciding upon repairing or replacing an instrument.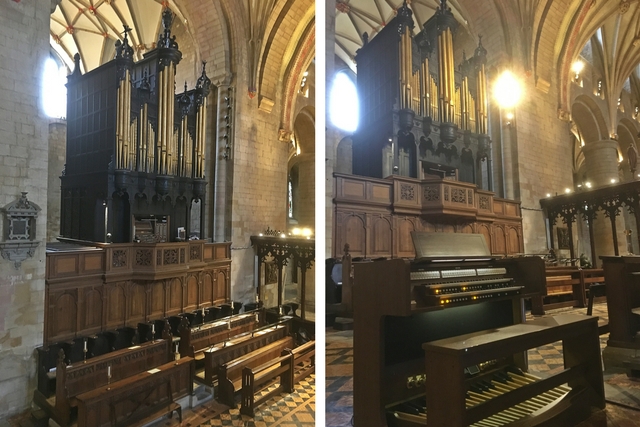 Most digital organs we replace date from the 1980's and 1990's so they are instruments between 18 and 38 years old. The reason to change is most usually down to reliability issues and availability of spare parts. In some cases, this is because the original manufacturer is no longer in business or the part, usually a generic micro chip processor is no longer made.
We now take care to harvest any useful components, especially processor boards, from the older scrapped instruments and pass those parts onto Ormatronix who have built a business out of servicing any make of digital instrument.
Only in less than a handful of circumstances has the digital organ failed completely so like the pipe organ they soldier on until the issues accumulate to a point when a change is more or less forced on the church. Indeed some of these instruments then find a new life as a home practice instrument where the reliability issue is less important, the customer of course being made aware of any such problem.
Typical problems are pistons that do not work or stop voices that no longer play. The instrument, were it a pipe organ, may well have carried on longer, but because a digital is completely electronic it is understandable that a 'part failure' is feared to be the sign of worse to come when total silence may well result.
In contrast pipe organs seldom stop dead, their demise is usually long and drawn out. There are also occasions when a perfectly good older digital instrument is replaced to take advantage of the massive improvement of sound quality that has taken place over time.
So good are todays digital instruments and given that there will always be a limitation of loud speaker sound delivery, it is difficult to contemplate 30 years hence the customer base will consider todays instruments require replacement on sound quality improvements alone.
Life expectancy depends on the type of Organ
I think the first major factor to recognise is the huge difference in life expectancy between mechanical action pipe organs and those of all other types that either involve electronic or pneumatic actions or some combination of the both.
It would seem to me that the electronics of pipe organs are similarly prone to fail, todays rebuilds confirm this. This will include parts that are perhaps easier to source 20 or 30 years after original manufacture and such organs will seldom if ever include components that are no longer available like the 'chips' digital builders use. But these pipe organs wear out on a regular basis with larger ones requiring rebuilds running into many hundreds of thousands of pounds on what seems to be anything between a 20 and 30 year cycle.
Later this year we will provide a temporary instrument for York Minster which is to undergo a full rebuild a little more than 20 years after a complete earlier overhaul. Canterbury Cathedral who have just hired our Regent Classic custom instrument embark shortly on a major rebuild after a major rebuild by Manders in the 1970's. Looking at running costs of large instruments regular tuning will run into thousands of pounds a year which digital organs do not require. This tuning cost will still be in the many hundreds even for small instruments unless of course as sometimes happens it is just not done at all!
Mechanical action instruments certainly avoid most of these issues save of course for tuning. Parts wear out but on nothing like the time frame of a pipe organ with electrical components.
I play a great many small parish church instruments dating from the 1850's onwards that perform more or less as satisfactorily as they did when built a century back. As hymn accompanying machines they do a reasonable job but for the ambitious musician able to contribute more to a service they are usually very limiting and do not often offer an instrument one looks forward to playing and importantly do not attract musicians to play them. It is usually for that reason alone that we are asked to replace organs of this type and size. This decision is normally taken at a time when the church is considering other major works such as installing toilets, kitchens and heating. Often the 'space' needed for the facilities that will extend the building's use is provided by removing the pipe organ.
The Cost of replacing a Pipe Organ
Most of our work of replacing pipe organs revolves around electric, pneumatic or electro-pneumatic action instruments of reasonable size, certainly 2 manuals and 20 stops, that face repair estimates of between £50,000 and £200,000 having had little if anything besides tuning spent on them in the past decades.
Here are some recent examples in the last few weeks.
Trinity Welsh Chapel in Cockfosters faced an estimate of £80,000 to restore a 15 stop 2 manual Gray & Davidson. (3rd manual never commissioned)
Golders Green Methodist Church have an estimate of over £80,000 to repair a 1939 Compton 6 rank extension organ providing 33 stops.
Sutton Coldfield URC who had an estimate of over £150,000 to rebuild a 41 stop 3 manual Nicholson last rebuilt in 1968.
I also wrote about St Oswold's Guisley last year who has a 3 manual Harrison of just 21 speaking stops with a repair cost again well over £100,000.
This would support an annual figure of between £1650 and £6600 as a cost that needs to be 'set aside' to ensure these instruments can be overhauled when the time arises. The Sutton Coldfield instrument which has the best recorded data confirms £3000 per annum as a accruing cost that must eventually be faced.  So these instruments while working well build up substantial liabilities unless dealt with as each problem develops.
All too often the cost of dealing with problems on an individual basis is deferred, in part as the cost of getting access to them is so disproportionate to letting the then small problem persist. It gets added to the list for resolving some time in the future. It becomes all too easy to let matters drift until enough has failed to justify the work, or in most cases that so much has failed that carrying on is no longer an option.
The Cost and life expectancy of a New Electronic Organ
With a very good digital replacement then available for between say £20,000 and £40,000 the situation sometimes becomes one of an affordable digital or no organ at all. The fund-raising challenge in the face of declining church congregations becomes just too great unless the instrument is of particularly fine quality and part of our musical heritage.
The following examples I illustrate, show us you could expect at least 30 years future use from your digital instrument. The instruments we are replacing today confirm this. Woodbridge Methodist Church was a Makin from 1987.  St Matthews Chadderton a Makin from 1989. St Saviour's in Guildford replacing a Wyvern from 1991 and St Margaret's Dundee a Wyvern from late 1993. So surely todays instruments must do at least as well, if not far better? Like all electronics if you explore todays technology with that of 30 years ago there is actually so much less to go wrong.
Looking at the financial case of reducing the current day  repair/overhaul expenditure from £50,000 for a modest pipe organ  to say £20,000 for a respectable new digital instrument frees up £30,000. If that were 'invested' at even the current terrible 2% return rate gives a compound return on the £30,000 of £24,000 after 30 years which will substantially fund a new digital instrument if one were needed.
The likely running costs will also be lower if just considering tuning alone. We and most digital instrument suppliers provide a comprehensive warranty, at least 5 years and in some cases 10 years so customers are certainly insulated from any cost over the first 5 years when a pipe organ may have clocked up about £2500 in tuning charges.
More independent research needed
It will inevitably seem that I am making a strong financial case against pipe organ restoration and my position conflicts me from giving an unbiased view. Because of this I would really welcome 'independent' research that would have more credibility to be carried out. I hope I have fairly presented the facts of real live situations that we have worked on. They are not comprehensive but very recent examples of the situations our customers face.
The world of pipe organs, like many others through history is being dramatically changed by a competing and cheaper technology. The hand weavers of the 18th and 19th century had to recognise the introduction of mechanical looms and agriculture has adapted from horse power to machine power. There are still hand weavers and some land is still ploughed by horse and these traditions are important to maintain, to keep us in touch with a simpler past life and respect our heritage. But that change allows us today to enjoy cheap food and clothing that burdened our forbears with the vast majority of their income just to afford the basics of life.
Other considerations apart from financial
What is important to ensure as this process of change takes place is that it is done with care and respect. That the client has the fullest possible information on which to take their decision, not just looking at the immediate cost advantage but setting this in a well-informed context that also sets out the longer term factors and especially the merits of the instrument that has come to a crossroads in its life.
The pipe organ is an important part of our musical heritage and we should ensure that where reasonably possible the fine examples we have are at worst preserved and at best restored.
Also let's not forget that size is not everything. A beautiful smaller and therefore less expensive pipe organ can also be very effective if placed in the right location. See my account of 'West End Gallery' instruments.
Perhaps a few more organists need to be considering quality over quantity to ensure that the beautiful craft of pipe organ building has a broader base on which to sustain a brighter future.
I have had a passion for church organs since the tender age of 12. I own and run Viscount Organs with a close attention to the detail that musicians appreciate; and a clear understanding of the benefits of digital technology and keeping to the traditional and emotional elements of organ playing.