On a grey Saturday at the end of January I headed into central London to attend the annual Bloomsbury Organ Day, hosted by the Central Baptist Church in Shaftesbury Avenue, a stone's throw from the British Museum.
This event was actually the tenth such occasion masterminded by Philip Norman, a freelance organist and conductor in London with a strong internet presence, especially through his website of resources for church musicians Organists Online. Philip's associate in organising the Organ Day is Philip Luke, organist at Central Baptist since 1983, who also coordinates the "Music in Bloomsbury" series of concerts at the church.
Central Baptist Church hosting the Bloomsbury Organ Day
The Bloomsbury Organ Day began at lunchtime and the programme comprised a mixture of recitals and other events of interest to organists. The headline attractions this year, which provided me with extra motivation for attending, were of course the masterclass by Dame Gillian Weir and the closing Celebrity Recital given by RCO past-President, Catherine Ennis.
Somewhat surprisingly, I found that registration for the day and admission to all events – except for the Celebrity Recital – was free of charge.
The current organ at Central Baptist Church is a three manual instrument with 52 speaking stops forming a comprehensive romantic-style specification. It incorporates a smaller core constructed in 1990 with pipework from Holy Trinity, Eastbourne. This was then rebuilt and expanded in 2008 by the respected firm of B.C. Shepherd & Sons of Edgeware using pipework from Beechen Grove Baptist Church, Watford and St Augustine, Tonge Moor, Bolton.
Shepherd & Sons still maintain the Bloomsbury organ, and I think I recognised both Mr John Shepherd and Mr Eric Shepherd attending the Organ Day.
Highlighting recent organ initiatives
The Organ Day began with a presentation by Simon Williams, RCO Director for the East, South, and South-West of England, and Director of Music at St George's, Hanover Square.
Simon highlighted recent initiatives by the RCO encouraging young players to take up the instrument and pursue its study. This included the Certificate of Accredited Membership "designed to establish and strengthen fundamental skills and musicianship at the organ", and the organ training programmes #Inspiring Organists supported by Viscount Classical Organs.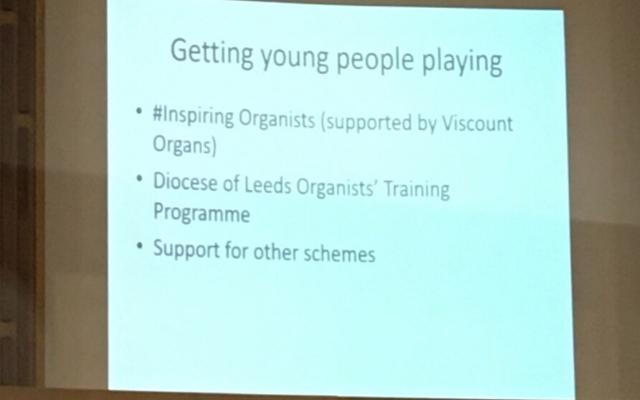 Subsequently half-hour organ recitals were given by Paul Greally – Organ Scholar Elect, King's College, Cambridge – and Alexander Hamilton – Organ Scholar, Westminster Abbey.
These recitals not only demonstrated the versatility of the resident pipe organ in repertoire from Bruhns to Langlais, but also confirmed that the future for professional level organ playing is bright.
Between the two recitals and interesting session was arranged to appeal to choral directors whose vocal resources and/or budgets for the purchase of music are limited. This was an introduction by Philip Norman to his resources website Small Choirs which provides free downloadable music especially for groups with few or no men. Live examples were also given during the talk by a quartet of singers from the professional choir at All Saint's Church, Margaret Street.
Orgelkids UK – teaching children about pipe organs
Also programmed into the day were several breaks, during which refreshments could be bought, and attendees could visit a number of stands by supporting organisations. One which particularly caught my eye was Orgelkids UK, an educational resource originally developed in the Netherlands and now being offered by UK builder of portative and positive organs David Schuker.
The Orgelkids is available to hire for demonstrations such as in schools. It comes in a kit form which, under Mr Schuker's supervision, is then constructed by the children into a fully playable state, to illustrate the principles behind traditional pipe organ building.
An organ masterclass with Dame Gillian Weir
A little after the scheduled time of 3.30pm the masterclass began with Dame Gillian Weir. Her focus was on issues of "rhythm and tempo", with six students of different ages and abilities being listed to play.
Such was the enthusiasm and stamina from both Dame Gillian and the students that not only did some students not play, but many people including myself found it necessary to take a refreshment break before the end, in order to be ready for the Celebrity Recital!
One of the first sessions was no doubt interesting to many organists, being a demonstration of the tempo relationship between the three sections of Bach's "St Anne" Fugue (see earlier recording with Gillian Weir below). Not only did Dame Gillian advocate maintenance of a consistent pulse between the sections, but also directed the student in exploring how different articulations could hinder or help the direction of that pulse.
As expected, the masterclass provided much material for future thought!
Celebrity organ recital by Catherine Ennis
Finally, we came to the Celebrity Recital by Catherine Ennis. This was something of a tour de force covering five centuries from Buxtehude (b.1637) to Jacques Charpentier (d.2017) via Bach, Handel, Mendelssohn, and Parry.
The recital, and the whole Organ Day, concluded with Reger's monumental Chorale Fantasy on "Wachet Auf"; and I, for one was left feeling I would need seriously to brush up my pedal technique before ever attempting that fugue!
All in all, the Bloomsbury Organ Day was a highly enjoyable and educational Organist's Day Out.
Richard is based part-time in our Bicester head office, also being a freelance organist in the Oxford area. He comes to Viscount with many years' experience in the digital organ industry having worked previously for the Royal School of Church Music in its Addington days. Richard has been organist and choir director at St. Margaret's Church, Oxford for the past fifteen years.