Following on from David's Desert Island Discs for organ players – I thought I would add to the theme. We had a great discussion about it and thought: how would we fill our time if we had to isolate ourselves (Coronavirus style) on a desert island.
This led to some interesting answers and I think we all found out a little more about each other! We decided in the end to set our parameters to:
Book to take with you (must be music related)
Piece of music to listen to
Musical instrument to take (no power, so has to be acoustic)
A piece of music to study for that instrument
We thought you'd like to hear what we came up with! We'd love to hear what yours would be too – so please do share your thoughts in comments below.
Francis Rumsey – Audio Specialist and organist

Book:
"I wonder if I might be allowed the entire New Grove. That would keep me going for a while! Plenty of meaty musical info to get my teeth into. If not, Music in the Castle of Heaven. I read it a few years back, but there's so much in there that it could easily fill a few months. J.S. Bach's life is fascinating, his squabbles with the church, his similar problems to ours of limited church music resources, unreliable musicians, and lack of money, yet sublime music churned out week after week."
A piece of music to listen to: 
"Handel Messiah. Corny perhaps, but lots of great tunes to sing along too, and uplifting choruses. There are good reasons why it's popular!"
If you were allowed an instrument, what would it be (obviously no mains on a desert island and no generator):
"Maybe a bassoon. I've always thought it would be a great one to learn, and I love the sound."
A piece of music to study for that instrument:
"Ivor the Engine theme tune. Good fun and I like steam trains."
Richard Lowe – Organ Consultant and Organist
Book: 
I'd like to reacquaint myself with a book I purchased back in 2001 whilst at university entitled 'Cavaillé-Coll and the French Romantic Tradition' by Fenner Douglas. I have a great appreciation of the life and works of Cavaillé-Coll and spent time in my younger days looking at his organs in France: in fact, my final year dissertation at university was 'the development of the music of the established churches of England & France 1850-1950 with specific reference to the role of the organ'. All those amazing organ masses!
A piece of music to listen to:
If it were restricted to a single composition, I think I may well choose Vierne 2. So full of drama and beauty (as recorded by the master Pierre Cochereau). On the other spectrum, a collection of theatre organ music from various players and their associated styles would also get me through the time very nicely. Could I have both..?
If you were allowed an instrument, what would it be (obviously no mains on a desert island and no generator):
I took quite a time to reach a conclusion on this! I first thought that I might take my Robert Goble clavichord but, ultimately, decided upon my 1903 Steinway Model O piano. Not only is it a fabulous instrument but it has been in my family for 3 generations now so there would be some emotional attachment to home.
A piece of music to study for that instrument:
Difficult! I'm very familiar with the organ works of Messiaen but not as much with his piano works, so, maybe 'Vingt Regards sur l'Enfant-Jésus'. Again, on the other spectrum, I'd like to study the amazing harmony and 'voicing' of jazz piano genius Bill Evans. There's actually a huge amount of synergy between Messiaen and Jazz! Should keep me occupied!
David Mason – Managing Director and organist

Book: 
"That really is difficult as I ordinarily do not enjoy reading books. I read so much more online nowadays in terms of blogs. The last book I remember reading was back in the 1990 and was 'Barbarians at the Gate'. It was about the Wallstreet takeover by KKR of RJR Nabisco.  Capitalism at its dirty worst!
So, my field is wide open, with no risk of classic repeats. It almost does not matter as I probably would not open it up. I admire the determination of Churchill who kept our spirits up so competently in 39-45 so it would be interesting to have his History of the English Speaking peoples.  It is super long too – so if I did get hooked it would last me a long time!"
A piece of music to listen to:
"That's easier! Definitely Rachmaninoff 2nd piano concerto."
If you were allowed an instrument, what would it be (obviously no mains on a desert island and no generator)
"I have always envied people that can carry their instrument about quite easily and entertain 'on the spot' so probably a violin."
A piece of music to study for that instrument.
"Bach partitas for solo violin, what else?!"
Richard Goodall – Organ Consultant and organist
Book: 
"Hamilton Harty, Musical Polymath – by Jeremy Dibble. London always seems to be seen as the hub of British musical life, but Harty had huge influence as conductor of the Halle Orchestra in Manchester."
Music to listen to: 
"Despite my love of (a) Bach and (b) British repertoire from Stanford/Parry onwards, it would probably have to be the masterpiece that is Durufle's Requiem. I love the plainchant melodies – and how that (somehow) he manages to showcase and enhance them within a huge range of mood and colour, without changing their essential beauty."
Instrument: 
"Soprano saxophone. I played tenor sax in my school's concert band, but have always thought the sop was a most expressive instrument."
Music to learn:
"David sort of stole my thunder, as I was thinking about the sax arrangement of Bach's Violin Partitas. However, I have since discovered the Cello Suites have been arranged for sax too, so I'll go with those."
Richard Patt – Sales Manager and organist
Book:
"I'm not a great reader, but I do prefer non-fiction if anything.  I've just started reading 'Fully Automated Luxury Communism' by Aaron Bastani.  It's an incredibly interesting viewpoint of life when new technologies should liberate us from work and the challenges which come with that extra freedom."
Music to listen to:
"Very difficult as I don't really have a favourite genre.  However, I do really like choral music and so I think I would choose 'A mother's Love' (Music for Mary) by The Sixteen and conducted by Harry Christophers.  I find the music incredibly ethereal and relaxing."
Instrument:
"It would have to be the drums.  I did start having lessons a few years ago and I would certainly have the time on a desert island and no neighbours to annoy so I could play as loud as I liked."
Music to learn:
"No one piece really, but I think Jazz is probably more my thing on drums, so I would concentrate on technique.  If I could play half as good as the likes of Stanton Moore or Jeff Porcaro I'd be happy."
---
That's it! So, now over to you – what are your choices for your desert island 'isolation' choices? We'd love you to share them with us below.
Oh and don't miss David's Desert Island Discs for organ players, where he challenged himself to pick his top 10 organ pieces to live with in splendid and remote isolation. We'd love to hear what you think about the pieces he selected.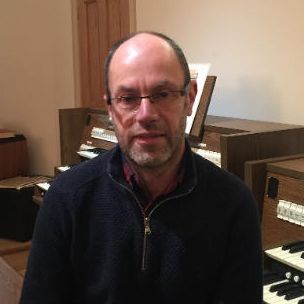 I have played the church organ since the age of 11. I am organist at my local catholic church as well as accompanist for a small choral group and keyboard player in a function band. I am committed to ensuring Viscount customers get industry leading service and advice, resulting in the very best organ to suit their needs, be it church, school, home or concert hall.