In 2019 we were invited to quote for the organ that would be required after the complete rebuilding of the Methodist Church in Driffield East Yorkshire.
It's not often in a career that one has the opportunity of working with a brand new church building. It is therefore quite remarkable that this organ installation followed on so quickly from our work at Muswell Hill URC (where we installed two digital organs) which while not demolished, was the subject of a major refurbishment in 2018/19. These installations add to our growing number of new-build organ projects which included St. John's Methodist Church, Settle in January 2016.
Driffield Methodist Church decides to start fresh
Driffield Methodist Church was originally built on a very grand scale in 1880. A huge worship space with horseshoe galleries could no doubt seat well over 500. Like so many similar buildings the passage of time had made the space expensive to maintain and increasingly unfit for a busy and varied role in our changed 21st century communities.
A decision was therefore taken to start afresh rather than to try and adapt the space to our more modern way of life. The demolition got underway in early 2019 with a vision to create a much more versatile and flexible community asset (read about the re-development of Driffield Methodist Church).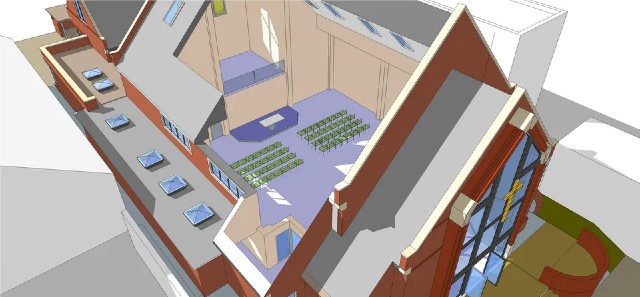 Muswell Hill by the way decided to adapt their space but the result there is no less substantial having split their original building in half horizontally.
Anthony Bogdan demonstrates the flexibility of voicing
In early June 2019 a delegation from Driffield Methodist Church visited Anthony Bogdan Organs to explore the choice of Viscount Organs and in particular their chosen preference the Envoy 35-FV. It had only been delivered to Anthony a day or two before so Anthony had yet to 'put the computer on it' to set up his preferred style of instrument.
Whilst John Sharman (organist) and his fellow delegates watched, Anthony added additional voices to the already extensive library and added his particular finish to the instrument.
It was the realistic sound and the flexibility of the voicing which impressed the committee on the Viscount Physis system and Anthony's particular style of Harrison like voicing with smooth reeds and silvery mixtures was particularly appreciated.
Another organ installation delayed by the pandemic
This project, like so many in 2020, was delayed by the Covid-19 pandemic but we were finally allowed in to place speakers and install the instrument in August 2020.
While I have not visited myself I was kept up to date with progress by Anthony Bogdan who voiced the instrument and provided a short recording of the finished job before any furniture was moved in.
I was convinced Anthony had used the organ reverb system to create this large sound but he assures me the newly built space has natural acoustic of 4 seconds! I wonder how that will change when the furniture arrives when perhaps a second voicing visit will be needed.
We can be sure, thanks to the Viscount 'Physis' technology, that whatever changes the revised acoustic may require, Anthony will be able to adjust the organ to deliver the very best sound for the space.
I have had a passion for church organs since the tender age of 12. I own and run Viscount Organs with a close attention to the detail that musicians appreciate; and a clear understanding of the benefits of digital technology and keeping to the traditional and emotional elements of organ playing.