Our second release in this series of Choir and Organ Tutorials, recorded at the Old Royal Naval College in Greenwich, is the Gloria from Schubert's Mass in G. We're releasing it during Eastertide, as it's such a joyful, celebratory piece, and it suits the season of resurrection.
The Gloria begins "Gloria in Excelsis Deo!", "Glory to God in the highest!" and is usually one of the most upbeat movements of a classical mass. It's presented here as a full rehearsal and performance, directed by Ralph Allwood, and accompanied expertly by organist Jonathan Eyre.
Advantages and compromises from playing this piece on the organ
As Ralph points out at the start of the rehearsal, this was intended as a full orchestral piece, as were the other two Schubert masses, but it's good to do it with organ because it's such good music. This one dates from 1815, although it wasn't published until after Schubert's death. Apparently, it was originally scored for string orchestra and organ, although there is a later set of parts which seem to imply that Schubert added trumpets and timpani in a grander conception of the work.
Jonathan is asked to discuss the advantages and compromises inherent in carrying this off on the organ. He explains that he's playing from a Novello score where it feels like the whole orchestration has been put in a score notation package and shrunk down, but the organist aims to keep it "rather light". It's important that the string parts can be heard, for example. The opening begins with a fast and demanding D major scale, and here it's important that the choir gets a good sense of the tempo.
Going on one needs to bring out some of the interesting parts, for example bringing out a violin melody on a flute in the Great, while the string parts chug away on the Choir. There are lots of bits where there would be semiquaver movement in the strings, and these have to be simplified for the organ, reduced say to quavers. One aims for a compromise that aims to be reasonably authentic.
What happens where sforzandos are marked?
Ralph asks Jonathan what happens in the organ part where sforzandos are marked. Jonathan explains that a good organist will aim to do what's possible in those places, and if a trumpet or a cornopean can be pulled in to action then it will be used to add moments of excitement. You'll hear a few examples of this towards the end of the Gloria movement, and notice that it takes quite a lot of dexterity on behalf of the organist to manage these changes.
There are a number of short solo sections in this movement of the mass, alternating with full choir, and you'll hear some of the ORNC chapel choir's members acting as soloists from within the body of the choir.
We hope that you enjoy discovering some useful rehearsal and performance tips from these expert musicians. Even if you don't intend to peform this piece yourself at some point, we hope you still enjoy the wonderful music.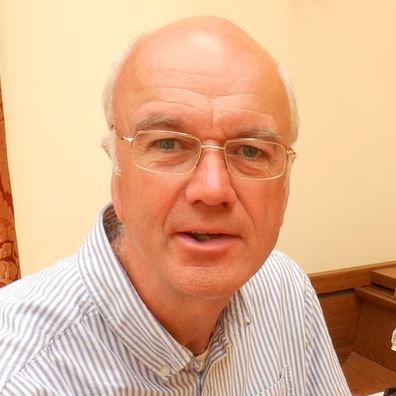 I'm a retired academic, with a background in music and audio engineering. I'm currently a consultant for Viscount & Regent Classic Organs, as well as being a freelance organist, including a role as organist/choirmaster at St Mary's, Witney. I sing bass with Oxford Pro Musica Singers and the Cathedral Singers of Christ Church, Oxford.