St Cecilia is the patron saint of music, and what better way to celebrate it than with Herbert Howells' beautiful anthem, "A Hymn for St Cecilia"? Cecilia's traditional feast day is 22nd November.
We recorded this piece in the time we had remaining at the end of the session in January, during which we had already recorded all the tutorials for this year's series, so everyone was rather tired. Unlike the rest of the series, therefore, this is simply a performance with no preceding rehearsal, but it's so wonderful that we'd like to share it.
The musicians of the Old Royal Naval College, led by Ralph Allwood, really pulled out the stops to deliver a final splendid rendition.
Based on words written by Ursula Vaughan Williams
Howells' anthem is based on words written by Ursula Vaughan Williams, second wife of the famous composer Ralph Vaughan Williams. The music was written in November 1960, and dedicated to the Livery Club of the Worshipful Company of Musicians, of which he had recently been Master. Howells had been awarded the Collard Honorary Life Fellowship of that distinguished institution in 1959, succeeding Vaughan Williams. You can find a set of images of the original handwritten score of "A Hymn for St Cecilia" at https://www.wcomarchive.org.uk/—a-hymn-for-st-cecilia.
The anthem is in three distinct verses: the first set to a bold unison tune with organ accompaniment; the second in choral harmony with interspersed accompaniment, starting off with the lower voices holding the unison tune; and the last in unison again, with a soaring (optional) descant, building to a robust conclusion.
The reason that St Cecilia became the patron saint of music is somewhat obscure. She was an early Roman Christian martyr, who is said to have heard heavenly music when forced to marry the then pagan, Valerian. Apparently she sang inwardly to God during her wedding, and possibly because of this she was has often been portrayed in art and stained-glass windows as playing a little organ and singing. Her main claim to fame, however, was really the conversion of many hundreds to Christianity, the giving away of her possessions to the poor, and subsequent martyrdom.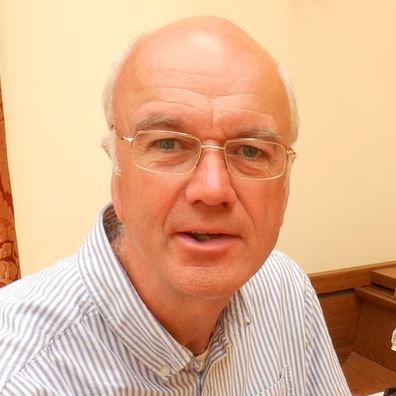 I'm a retired academic, with a background in music and audio engineering. I'm currently a consultant for Viscount & Regent Classic Organs, as well as being a freelance organist, including a role as organist/choirmaster at St Mary's, Witney. I sing bass with Oxford Pro Musica Singers and the Cathedral Singers of Christ Church, Oxford.