For our first piece in this year's series of organ performance tutorials, Jonathan Kingston and Francis Rumsey take a look at "Nimrod" from the Enigma Variations by Edward Elgar. It's a useful, solemn piece for the beginning or end of a funeral, or perhaps for Remembrance Day, which needs careful management of dynamics.
Enigma Variations and Nimrod by Edward Elgar
Elgar's so-called "Enigma Variations" (Variations on an Original Theme, Op. 36) were originally scored for orchestra, although they have been subsequently arranged in various ways, including here for the organ. All sorts of stories exist about the hidden message or "enigma" encoded therein, and we find the charming idea that each movement is supposed to represent the character of various of Elgar's friends. Nimrod here is the mighty hunter, or Jäger in German, representing Elgar's loyal and supportive publisher, Augustus Jaeger of Novello.
Discussing the performance of the piece, Jonathan and Francis start out by considering that managing graduated dynamics is the key to success here. The piece goes all the way from pp at the start up to ff just before the end, following which, there is a very rapid reduction in dynamic level that needs careful handling.
Elgar perhaps suggests warm English diapason tone, and in the earlier phases of the movement there is an opportunity to make the most of the rich eight-foot chorus of the organ, possibly with the swell oboe included in places to give just a little piquancy. Upper work and reeds can be introduced as the climax is approached.
Delivering a successful graded diminuendo
As the dynamic level builds in the second half, Jonathan explains how a combination of swell box openings and piston level increases can be used to deliver graduated changes in intensity. There are three points at which another piston level can be brought on until we reach the loudest point. For those without any automated pistons, the challenge is greater and will involve whatever hand registration is possible to add stops during this section.
Having reached the climax of the piece we find the need to knock stops off in short order, as there are only a few bars within which to return to a quiet dynamic level. In the video, you'll see how Jonathan manages this, using a combination of piston changes, swell box, manual change, and hand registration to deliver a successful graded diminuendo.
Organ Performance Tutorial for Wedding and Memorial Music
The organ performance tutorials for 2020 concentrate on the playing of organ arrangements for weddings and memorial services. You can read more about this wedding and memorial tutorial series. Our previous years' tutorials can be found on the organ music blog or go directly to the Organ Registration Tutorial (2019) or Choral Organ Accompaniment Series (2018).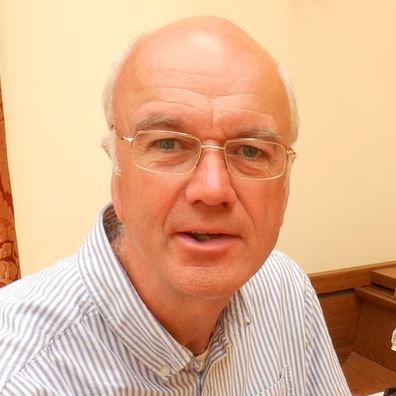 I'm a retired academic, with a background in music and audio engineering. I'm currently a consultant for Viscount & Regent Classic Organs, as well as being a freelance organist, including a role as organist/choirmaster at St Mary's, Witney. I sing bass with Oxford Pro Musica Singers and the Cathedral Singers of Christ Church, Oxford.