During this series of tutorials on psalm singing and accompaniment, Ralph Allwood has been explaining the origins and meanings of the text. As part of this episode's rehearsal of Psalm 133, Ralph talks about the blessings of unity—how precious it is, and how we must hold on to it.
This very short psalm is sung to a chant by Sir Edward Elgar, here presented in the key of A flat (sometimes it is offered in G flat). It's a simple single chant, with relatively little movement in each part, requiring poised singing and good control of expression. (Single chants only have two phrases, as opposed to the double chant's four, which means that every verse is sung to the same chant. These tend to suit the shorter psalms.)
Part of the art of psalm accompaniment on the organ is the use of varied tone colours and textures to illustrate the words. In psalms, the organist has to judge when to let the instrument sit back behind the choral texture, when to cut through, float above, or growl below.
As part of the rehearsal, organist Mark Shepherd discusses his word painting with Ralph. You'll hear how Mark uses a descending melodic figure on a solo reed to illustrate the oil running down Aaron's beard. A high chordal sequence on string celestes depicts the dew of Hermon falling upon the hill of Sion. Ralph explains the fascinating nature of this dew, a natural physical phenomenon that arises in the Holy Land, where it is often very hot and dry. Apparently a refreshing dew falls from time to time, which would be regarded as a blessing by those that experience it.
BEHOLD, how good and joyful a thing it is: brethren, to dwell together in unity!
It is like the precious ointment upon the head, that ran down unto the beard: even unto Aaron's beard, and went down to the skirts of his clothing.
Like as the dew of Hermon: which fell upon the hill of Sion.
For there the Lord promised his blessing: and life for evermore.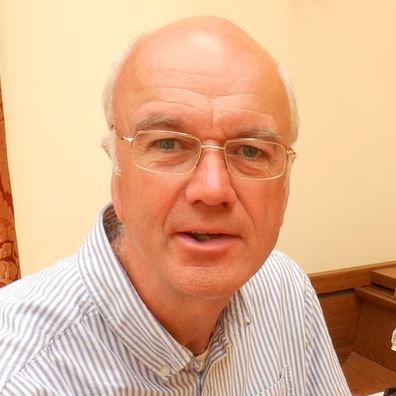 I'm a retired academic, with a background in music and audio engineering. I'm currently a consultant for Viscount & Regent Classic Organs, as well as being a freelance organist, including a role as organist/choirmaster at St Mary's, Witney. I sing bass with Oxford Pro Musica Singers and the Cathedral Singers of Christ Church, Oxford.