Gosh what a year!  It is hard to know quite where to begin to share with you how much has happened in 2018.
It is absolutely true that if you asked a group of organists to express their opinions on the sound of various instruments pipe and digital there would be a great spread of opinion and probably not a great deal of consensus. We all tend to have our pet loves and loathes!
So I have long since given up expecting our instruments to receive universal praise. Its just not possible given the judging audience. However, you hope your work and product is respected and of course you look for signals that that is the case. I can honestly say that in this respect 2018 delivered some astonishing orders that reassure me we are on the right track.
Hire organ is a hit
2018 saw our hire activities almost explode with both demand and scale of job driven in part by an almost frenetic level of work on pipe organ repair and some breakdowns. Early in the year Wells Cathedral lost its blower and Tewkesbury Abbey underwent planned work, both asking Viscount to cover their temporary requirements.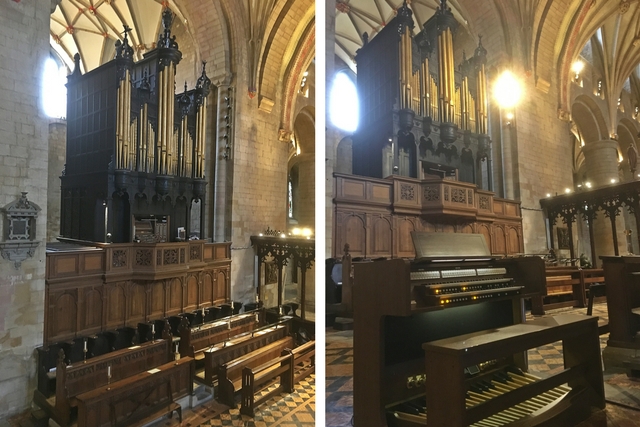 We also were honoured and perhaps just a little daunted by receiving substantial instructions for instruments at Canterbury Cathedral (Regent Classic Organ) installed just after Easter and York Minster, actually 2 organs there, that were first used in October. Harrison and Harrison have both these pipe organs currently in restoration.  Between these 2 installations there are almost 80 speaker cabinets deployed as you can read in more detail on the individual blog posts linked above.
Others in 2018 include Hull Minster, Croyden Minster, St Bartholomew's Crewkerne, Bromley Parish Church, St Bride's Church London, Crown Court Church of Scotland London and Bradfield College.
If the quality of your customers bears any relationship to the quality of your own business then it would be difficult to think of other places of worship that could speak better for us.
Our Eire based partner retailer Jeffers Music was also trusted with significant hires. In August Pope Francis visited Eire and instruments were provided at the Knock Shrine and also for the large open air service at Phoenix Park. Then in November a 3 manual organ was required at Dublin Castle for the inauguration ceremony of new Irish President Michael Higgins.
Growing dealer network and office
With a growing business you can never have too much help and we are delighted that we were able to add 2 new dealers to the national network that represent us. Adding a new location near Portsmouth we now work with Mark Gatrell who has been a pipe organ restorer and tuner for over 10 years.
Mark had been impressed with some local Viscounts he had heard and felt that for a number of his parish church customers he should be able to offer a less expensive digital alternative to the usually expensive repair of what was often a poor pipe organ. Mark formed a new business South Coast Organs which cost him his IBO membership but he felt that he could no longer ignore on his client's behalf the very effective and credible alternative that digital instruments now offer.
In Wales our service engineer Tony Packer trading as Viscount Organs Wales replaced local retailer Music Station whose owner retired. With more vigorous local representation Tony has significantly increased sales of new instruments in the Principality.
In the second half of 2018 we also took on 2 new staff members. To help with warehouse, deliveries and installations we are joined by Hugh Prior who at just 26 is the youngest member of our team. We also welcomed Richard Patt into a sales role. Richard is an accomplished musician and organist and had been the Rodgers UK sales manager for 5 years until their acquisition by Johannus 2 years ago.
Organ sales is booming
Sales of instruments continued at a brisk pace with Buckfast Abbey appearing early in 2018 as a customer. This was a little surprising as they were in the process of installing a brand new Ruffatti pipe organ. Our instrument was for the nearby Lady Chapel where there is a cavernous acoustic and on internal speakers alone the Envoy 35-S instrument really does a very credible job.
We were especially pleased later in the year to provide a new Regent instrument at St Matthews Chadderton replacing an old Makin. If I may be allowed a momentary gloat St Matthews is only about 800 yards from the Makin head office so it was especially rewarding to win what we thought was most likely to go to the existing supplier and team on their doorstep.
No Stopping Regent Classic Organs
Regent Classic is the sister business providing custom instruments to clients. It has been an exciting year for them as well. The hire instrument at Canterbury Cathedral is a Regent Classic.
Regent Classic completed 2 exciting projects in the year being the manufacture of a small Chamber Organ and the creation of a faithful copy of a Skinner instrument in St Peter's Morristown. We built these on spec to show off both the magnificent quality of the console manufacture and of course the credibility of the 'Physis' sound platform.  The Chamber organ has now done its first hire and a similar instrument has been commissioned by Peel Cathedral on the Isle of Man. The Skinner instrument has received considerable interest from customers but we have yet to secure a sale.
In May Dr Joseph Nolan came to the UK to make our Skinner demonstration Video  in Selby Abbey and added a concert tour in the UK and Ireland on 5 instruments recently installed for customers.
2018 did though see the sale of our largest and furthest export sale to Wellington Cathedral New Zealand. We also sold a home practice instrument to a private client in Nelson on the South Island. So almost the complete Viscount team were in New Zealand for 10 days and involved in a 24,000 mile round trip. I am confident that having delivered a perfect instrument to Wellington Cathedral any new export sales will be far easier to manage so we are now hungry for the next one to land on our desk.
The Skinner instrument was back in Selby Abbey in September for an 'organ battle' with artists John Scott Whiteley and D'Arcy Trinkwon entertaining an almost capacity audience.
Some additional mentions
During the year we also completed a much overdue refurbishment and redecoration of our offices. Our landlord triggered the process by installing new windows and this forced us to recognise that décor and furniture not new when it came here in 2006 had really become rather tired.
Francis Rumsey added to our video library with content on the Chamber Organ and a detailed run through of the Envoy 35-F which included the option to add swell sub/super octave couplers to this model. In 2018 we moved away from our 'Hymn of the Month' format and introduced choral items focusing more on the organ as an accompaniment instrument. We are now busy planning the new video content for 2019 which will involve more specific and detailed instruction on choosing registrations to match the period and style of particular pieces including an examination of the French Classical organ terms.
Francis Rumsey demonstrating the Regent Classic Chamber Organ at St Kenelm's Church:
From the 2018 Choral Accompaniment series: Haydn, Kyrie and Gloria from "Little Organ Mass":
And finally, close to the end of the year we are delighted that King's College Cambridge confirmed their requirement for a second Organ Scholars practise instrument. An Envoy 23-S will shortly be joining a Cadet Compact 31 already purchased  in the Scholar's rooms to allow them easy practice facilities. Though I have no doubt the newly refurbished pipe organ will remain their instrument of choice!
Looking forward to another exciting year
So another big thanks goes to staff and customers who have both so ably supported us in 2018. In conclusion it has been an amazing year and as I sit writing this, I can only wonder on quite what we might be asked to do next year and where we may be requested to travel?
As a final note you can look back at the review I did of 2017 – it has truly been a couple of amazing years!
I have had a passion for church organs since the tender age of 12. I own and run Viscount Organs with a close attention to the detail that musicians appreciate; and a clear understanding of the benefits of digital technology and keeping to the traditional and emotional elements of organ playing.