Ian Higginson's Sortie in B flat from his recent collection Organ Sound Colours, Vol. 1, could be a useful 'going out' voluntary for a church service.
(You can find out more about this collection of pieces in the general introduction to this year's tutorials.)
Sortie in B flat by Ian Higginson
The piece is in three time, and is marked "With Energy" at the start. Having a three-manual organ to hand, Jonathan Kingston is able to follow fairly closely the indications of registration and manuals shown in the score, although the composer's indications always have to be interpreted with the resources and sound of the current instrument in mind.
Although the Swell registration is shown as "full" at the start, Jonathan is using the smaller of the two 8' reeds available on this organ, together with the mixture, and avoiding the 16' reed for now, order to keep something in reserve for later. (The term "full swell" is something of a moveable feast in any case, depending on the context, involving the addition of some appropriate combination of reeds and mixtures, usually to a principal foundation.) This is coupled to an 8, 4, 2 chorus on the Great.
The second statement of the theme is slightly more subdued, shown to be played on the Choir coupled to Swell. Here Jonathan uses the Choir at 8' and 4', coupled to the Swell up to oboe. He notes that if one doesn't have a third manual to hand then a slight reduction in the Swell registration could be used at this point, playing on the Swell.
The central, quieter, section is shown as played on the Swell, still nominally "full" in the score, but marked mf. Jonathan explains that what to do here depends partly on the effectiveness of the swell box and the resources to hand. One could reduce the registration, and indeed he does so here, having a lot of pistons available, or one could rely on the swell box entirely to manage the dynamics. Then for the return to the main theme at the end, Jonathan brings on a bigger full swell, including the 16' reed and eventually the larger of the two 8' reeds, in order to bring about a robust conclusion.
Commenting on the pedal line, Jonathan adds that clarity is an important factor here. There are a number of points where the pedals have an arpeggiated figure with clear markings about phrasing, which he attempts to exemplify precisely.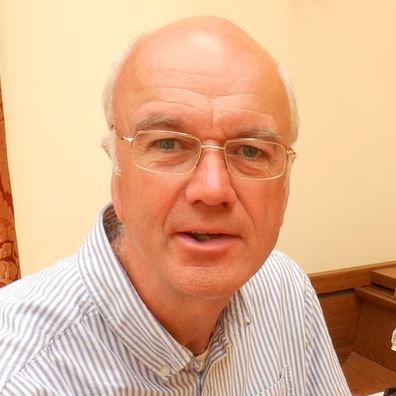 I'm a consultant for Viscount & Regent Classic Organs, with a background in music and audio engineering. I'm consultant technical writer and editor for the AES Journal, as well as being organist/choirmaster at St Mary's, Witney. I sing with Oxford Pro Musica Singers and the Cathedral Singers of Christ Church, Oxford.