We always love it when we get asked to provide an instrument for younger students who are just starting out on their musical journey. It's great to see children taking up the organ and we love to do what we can to help and encourage.
It was in July when we received an email from Michal who had been recommended to contact us. Michal was looking for a home instrument for his 11 year old son who had been learning organ for a year and a half. After a visit to our showroom in Bicester and much deliberation between models, Michal and his family decided upon a new instrument rather than used, and the Chorum 40s (which is our most popular home practice instrument) fitted the families' requirements perfectly. As an option, the family decided to upgrade the keyboards to wood filled ones with reverse colour.
The sale was agreed, and we ordered from the factory in Italy, but there was a problem! The Chorum 40s is only available in a simulated wood finish and the factory were waiting for some component parts to manufacture the console. The wait would mean the organ would miss the next delivery to us. The factory were keen to help and offered to make a one-off Chorum 40s in a real wood veneer cabinet with wood covered expression shoes. They even gave it a new model number, the Chorum 40s DLX, which is the only one in existence.
The delivery date was kept a complete surprise, and the instrument was delivered whilst Michal's sons were at school. How exciting to come home from school and find a brand new organ ready for you to play. The pictures show a very excited family with their new instrument.
We wish you all the best in your music and hope that you will keep in touch so that we can follow your organ playing journey.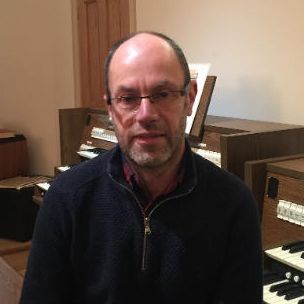 I have played the church organ since the age of 11. I am organist at my local catholic church as well as accompanist for a small choral group and keyboard player in a function band. I am committed to ensuring Viscount customers get industry leading service and advice, resulting in the very best organ to suit their needs, be it church, school, home or concert hall.