The hymn tune Thaxted is taken from the middle section of "Jupiter", one of the seven movements in the orchestral suite "The Planets" by Gustav Theodore Holst (1874 –1934).
Holst adapted the theme from Jupiter to suit the patriotic poem "I Vow to Thee, my Country", by Cecil Spring-Rice (1859–1918), which honours the soldiers who died during World War I. The hymn tune was named after Thaxted the English village in Essex, where Holst resided for a large portion of his later life.
Gustav Holst a brilliant English composer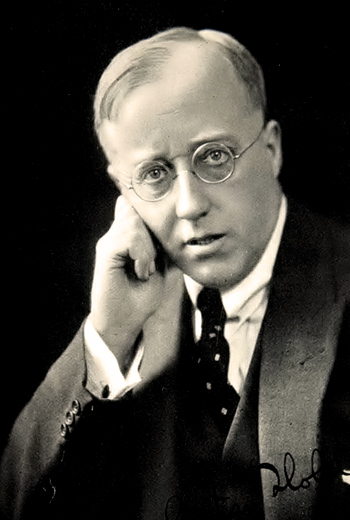 Holst was an English composer and teacher born in Cheltenham, Gloucestershire. With at least one professional musician in each of the previous three generations on his father's side, some might say he was destined to follow the same path. Holst was educated at Cheltenham Grammar School between 1886 and 1891 and it was also around this time he started composing piano pieces, organ voluntaries, songs and anthems.
After spending a few months in Oxford studying he was accepted into Royal College of Music and moved to London. Unable to support himself by his compositions he played the trombone professionally. Later he became a teacher and was a pioneer in music education for women at St Paul's Girls' School, where he taught from 1905 until his death in 1934.
Holst's distinctive style was the product of many influences, Richard Wagner and Richard Strauss being most crucial early in his development. He is really best known for The Planets but also composed a large number of other works across a range of genres.
From its premiere to the present day, this suite has been ever popular and influential as well as widely performed in different settings. For example, the music has frequently been used for sporting events as an instrumental or as a song with alternative lyrics, for example the Rugby World Cup anthem "World in Union" first sung in 1991 by Kiri te Kanawa.
Thaxted a favourite hymn of Princess Diana
Thaxted was also a favourite hymn with Princess Diana and was sung at her wedding and sadly also later at her funeral.
In the video below, the hymn is played on our Envoy 35-F which is a very popular church instrument.
You can find many more organ music videos on our blog, including this Hymn of the Month series. We have also recorded Organ Registration Tutorials, Organ Performance Tutorials and a Choral Accompaniment series.
All of these videos can also be found on the Viscount YouTube channel. Don't forget to subscribe to our channel so you don't miss the latest videos as they are released.
More About Jonathan Kingston's Musical Background
Jonathan studied the organ with Professor Ian Tracey and Ian Wells of Liverpool's Anglican Cathedral, home to one of the largest pipe organs in the world. He was appointed Organ Scholar, and subsequently Sub-Organist to Bradford Cathedral before securing positions as Assistant Director and Director of Music at two leading independent schools. He is currently Associate Director of Music at the Ordinariate Church of Our Lady of the Assumption, Piccadilly.
Jonathan's Work With Viscount
Jonathan works with us as our very own inhouse organist – he covers several areas from sales, demonstrations, voicing of instruments and performing. His playing features on the current promotional DVD material for Viscount, and he would be very pleased to hear from any churches or individuals requiring an engaging and lively recitalist. If you would like to connect with Jonathan directly, please feel free to follow him on Twitter (@jonkingston) or by email on jonkingston@hotmail.co.uk.
More About the Organ Being Played In This Demonstration
Jonathan plays this piece on our very own Envoy 35-F A 'Physical Modelling' based instrument with 35 stops in a real wood veneer cabinet. It  has a huge internal library allowing the user to create 4 totally individual voice pallets from classic English through Baroque and Romantic.   It benefits from a full complement of divisional thumb pistons and additional toe pistons. This organ also has a full 32 note pedal. For more information have a look at its specifications here.
I have had a passion for church organs since the tender age of 12. I own and run Viscount Organs with a close attention to the detail that musicians appreciate; and a clear understanding of the benefits of digital technology and keeping to the traditional and emotional elements of organ playing.