As Christmas comes round once more, church choirs will be turning their attention to the annual carol service. A perennial favourite for inclusion is The Shepherds' Farewell by Hector Berlioz.
In our tutorial you'll find some good advice from Ralph Allwood about the performance of this lovely piece, ably demonstrated by the choir and organist.
Hector Berlioz tries to trump his critics
Berlioz the composer tended to get metaphorical rocks thrown at him by prominent critics of the day. (He had been a prolific critic himself, early on in his career, with a reputation for not mincing his words, so he might have expected to take it as well as dish it out.)
During the rehearsal with the choir, Ralph relates a story in which it's suggested Berlioz tried to trump the critics by releasing The Shepherds' Farewell under a pseudonym. It was really well received at its first performance, and the rock-throwers said that the piece was so well crafted that Hector Berlioz might learn a thing or too from it. Only then did Berlioz reveal that it was in fact a chorus from his oratorio L'enfance du Christ (The Childhood of Christ).
The oratorio itself is based on the story of the flight into Egypt by the Holy Family, them having been warned that the first-born children were to be slaughtered by the occupying powers. This chorus is a particularly beautiful and poignant three verses that describe the shepherds leaving the stable where Jesus was born. They offer a form of blessing on the child, and ask him to remember them as he goes away, reminding him to recall the "shepherd's lowly calling" and exhorting his parents to guard well their "heavenly treasure".
Ralph Allwood emphasises the importance of the words, phrasing and dynamics
Explaining how to perform it, Ralph Allwood emphasises the importance of the words, phrasing and dynamics, stressing to the choir the need to enunciate the consonants clearly. He uses various special gestures to remind them of these. "Read ahead and you'll sing it more musically!" he suggests. One of the most beautiful things, Ralph proposes, is the sequence of harmonic modulations that arise, moving from E major at the start, through B minor, C major, G major and back to E major.
Ralph and Mark discuss the organ orchestration at the opening, which indicates clarinets simulating a shepherd's pipe call. Most organists attempt to use a plaintive reed at this point, often in both hands, but it could equally be something else suitable, they agree, as one is dealing with an organ rather than an orchestra.
Enjoy this rehearsal and performance, and perhaps gain some tips for your choir's rendition of The Shepherds' Farewell this Christmas!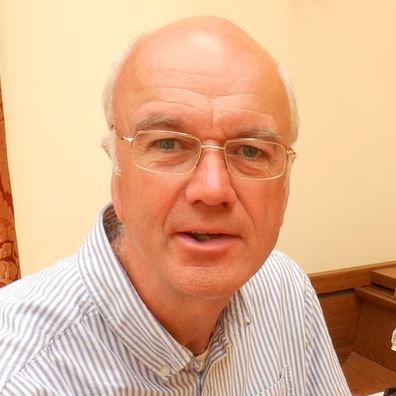 I'm a retired academic, with a background in music and audio engineering. I'm currently a consultant for Viscount & Regent Classic Organs, as well as being a freelance organist, including a role as organist/choirmaster at St Mary's, Witney. I sing bass with Oxford Pro Musica Singers and the Cathedral Singers of Christ Church, Oxford.