D'Arcy Trinkwon is a well-known concert organist with recital work all over the world. For a long time he has also had a Viscount 3 manual organ at home for practice. In 2014 he very kindly agreed to make a DVD on our instrument at Selby Abbey. This would help publicise the fund raising programme for the repair of the magnificent Hill pipe organ and also make a small contribution to the coffers through DVD sales at the Abbey shop and elsewhere.
The Hill organ is now fully restored and our instrument is no longer in the Abbey. So we are now able to make D'Arcy's recordings available with his permission on public media. We will be releasing individual tracks over the coming months so please do look out for them.
D'Arcy is great musician and I am sure you will enjoy not only his playing but his occasional words to the camera that we also captured on film.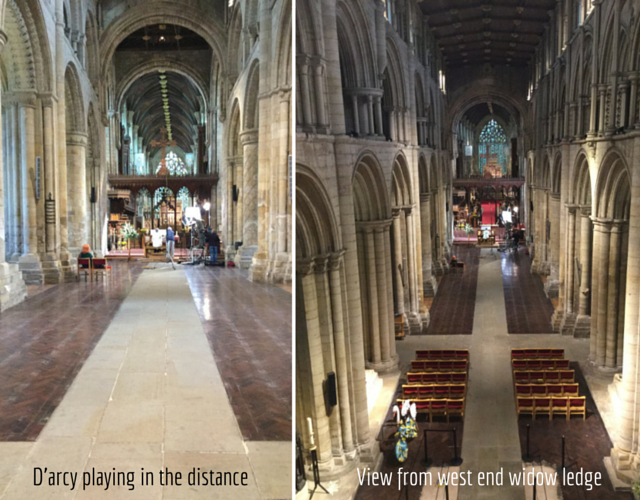 1. François Couperin: Benedictus – Tierce en taille
The first piece performed by D'Arcy Trinkwon is Couperin's Tierce en Taille from Messe pour les Couvents. This was one of the first pieces on which I had proper lessons when in school. Early French music uses a technique of interpretation called 'inegales' where notes written of equal length are played of unequal length. This gives a greater sense of movement. D'Arcy uses this very subtly in this performance. If you would like to purchase a complete DVD featuring all the pieces played by D'Arcy then please e mail us at enquiries@viscountorgans.net or call on 01869 247333. The DVD costs £15.00 plus P&P.
2. Liszt arr. Guillou: Prelude and Fugue on BACH
The second piece by Trinkwon is this dramatic organ fantasy on the BACH motif composed by Franz Liszt in 1855, later revised in 1870. This is one of Liszt's most famous organ works. It was composed for the consecration of the Ladegast organ in the Merseburg Cathedral. The piece is a recurring piece in the organ repertory and is frequently performed. Hopefully you will enjoy this performance as much as I did when I saw it back in 2015.
3. John Stanley: Trumpet Tune
Charles John Stanley (17 January 1712 – 19 May 1786) was an English composer and organist. At about the age of two, he had the misfortune to fall on a marble hearth, an accident which left him almost blind. Though virtually blind, Stanley had a remarkable memory. If he had to accompany a new oratorio he would ask his sister-in-law to play it through just once – enough to commit it to memory. D'Arcy plays this inspiring and energetic Trumpet tune on the Viscount Regent 356.
4-5. More D'Arcy Trinkwon Videos coming soon….
Make sure you follow us on Facebook or Twitter to get the latest updates and see when the next 2 Videos are released.
The following two tabs change content below.
I have had a passion for church organs since the tender age of 12. I own and run Viscount Organs with a close attention to the detail that musicians appreciate; and a clear understanding of the benefits of digital technology and keeping to the traditional and emotional elements of organ playing.
Latest posts by David Mason (see all)