In September 2014 we were very pleased to be asked to install our Regent 356 instrument at the breathtaking Selby Abbey (read more about that here). Eight months later we were back to make some musical magic!
After having cast my vote at 7.00am (7 May 2015),  a time I am not usually even awake, I had an easy drive up the M1 arriving at Selby by just 9.45am, much of the journey time spent wondering why on earth we had picked Election Day to start this project.
The Abbey had very kindly agreed to close to all visitors so this very special gesture and all the usual service bookings had limited our choice of dates. By the time we had found 2 consecutive days available the fact that one was the Election Day had completely escaped us.
We have of course made DVD's in the past but not on this scale.
On walking into the Abbey the scene was busy! We had 3 tripod cameras set up, one of these on railway tracks for smooth movement of the shot angle. We also had 4 mini cams, no more than the size of matchboxes, that could be fixed to the organ console and take detail shots of hand and footwork on the pedalboard, a mass of lighting and of course sound equipment. By 11.30 we were ready for the first takes.
Our 2 performers could hardly have been more different…
John Scott Whiteley, is Organist Emeritus of York Minster. He worked at that great cathedral from 1975 until 2010 when he retired from the Minster in order to pursue his freelance career. During the past ten years he has become well-known for his performances on BBC2 and BBC4 television of the complete organ music of Johann Sebastian Bach.  21st-Century Bach was a joint commission by BBC2 and BBC4 and began in 2001. The series continues and is planned to run for several more years, after which time some eighty programmes will have covered Bach's entire output for organ. The series was described by the British daily national newspaper, The Daily Telegraph, as "a triumph both nationally and musically."
John is an exceptionally neat and controlled musician, perhaps driven by the style of Bach on whose music he is such an expert on.
Our other recitalist, D'Arcy Trinkwon showed prodigious talent for the graphic arts from the earliest age. Beginning piano lessons at four, it was during his years as a chorister at Canterbury Cathedral under Allan Wickes he realised his musical vocation. Following studies with H. A. Bate in London, he went to the Royal Northern College of Music, Manchester, where he was particularly influenced by the teaching of Gillian Weir (organ) and Shirley Blakey (piano). A burning fascination for the French virtuoso organ tradition as represented particularly by Jeanne Demessieux and her teacher Dupré inevitably drew him to the Paris scene where he completed his formal studies with Jean Guillou and Odile Pierre. D'Arcy could not be more different from John. D'Arcy exudes virtuoso flamboyance with perhaps a freer interpretative style. You will perhaps notice 3 changes of costume during the recording of D'Arcy's DVD!
The recording begins… 
Each day was split into 2 sessions, John in the morning and D'Arcy in the afternoon.
The late start on Thursday put us behind but with a 9.30am start on the Friday we managed to wrap up the session by 7.00pm that day including interviews with the performers that will form part of the DVD's. Parts of the programmes of each DVD are listed below for you. John's shows off the instrument in its Baroque voicing and a number of different tuning temperaments were also used. D'Arcy on the other hand used French and English voicing with pieces that allow the organ to show of the full range of power with some really explosive sections.
These were the first daytime recording sessions that I had been involved with. All other sessions I had been involved with being in the dead of night to minimise road noise. I was quite concerned that the Abbey right in the town centre and right by a busy road junction might be plagued with the need for retakes due to sirens car horns and the like, but we were remarkably free of these interruptions. Our second day was also spiced up with regular election updates arriving on otherwise muted smart phones. Chris one of our cameramen had been up all night covering the Doncaster seat of Ed Balls so he was understandably late on set. How he kept going during the day was quite remarkable.
Having a building of this scale and history to ones self is a great privilege and Selby did not disappoint. The picture (below right) was taken from below the West End Window and shows the sheer scale of the building off well. As you would imagine the acoustic matches the scale and it was a delight to hear the music rumbling off into the distance long after the organ had ceased to play.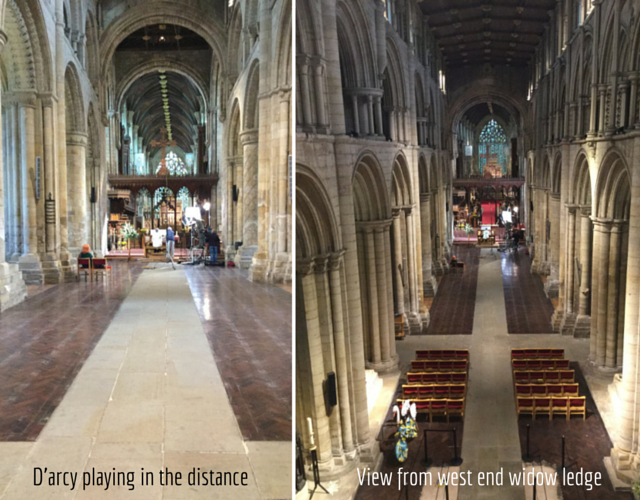 Why are we going to such lengths to capture these recordings on DVD?
These recordings have a dual purpose. They are of course meant to help promote the sale of Viscount Organs to private customers and churches alike but they are also there to raise money for the restoration of the very fine Hill pipe organ in the Abbey. This work is currently underway with Principal Pipe Organs of York so the pipe organ is currently silent.  We hope in 2017 to be able to arrange a DVD featuring our instrument and the newly restored pipe organ. Watch out for that one.
DVD's will be available from the Abbey and ourselves and we hope to make access very easy that they will also be available on Amazon later in the year.  Below you will be able to see and hear a glimpse of what we recorded. In this video you will see D'Arcy playing Etude Symphonique by Enrico Bossi – it is quite a work out on the pedals!
I am sure once you have seen and heard the amazing playing from these 2 magnificent musicians you will want your very own copy.
The DVD is on sale now in the Selby Abbey shop or through us for £15 + postage and packing. Contact me by email or give me a call (01869 247 333) to order your copy – or feel free to visit the Selby Abbey shop. We hope to have the DVD on Amazon to aid online purchases in future.
As ever it has been a pleasure to be involved and a delightful musical experience that we hope will bring much needed revenue to ensure the repair of an historic and worthy pipe organ at Selby Abbey.
I have had a passion for church organs since the tender age of 12. I own and run Viscount Organs with a close attention to the detail that musicians appreciate; and a clear understanding of the benefits of digital technology and keeping to the traditional and emotional elements of organ playing.