This year we decided for the first time to attend the annual MTA conference. For us held conveniently near by at Bromsgrove School. The school campus is impressive, extending to near 100 acres with numerous buildings and sports facilities spread all over the large site.
The Music Teachers' Conference Trade Fair
About 100 delegates from schools and colleges all over the country and some from overseas attend this three day event. It is primarily for lecture style meetings presented to various smaller groups with refreshment breaks taken at the 'trade fair' location where about 30 or so companies and organisations set up small stands.
We were joined at the event by our Welsh representative Tony Packer who works in partnership with Coach House Pianos. We set up a joint space in the corner of the building. A steady trickle of people came and explored our Regent Classic chamber organ and Tony's Viscount Envoy 35-F.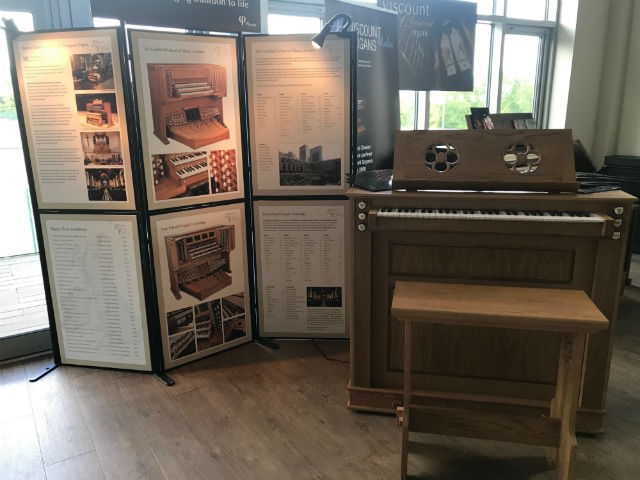 A comprehensive and diverse programme
I attended a very interesting presentation given by Ralph Allwood on techniques to improve sight reading. As it turned out this was directed at singers so not quite relevant for me but none the less interesting to hear such an experienced musician share his methods with us.
I also attended a fascinating 'master class' given by internationally renowned baritone Roderick Williams advising some school pupils on techniques to improve their performance. Later on Roddy gave the keynote presentation describing his project to bring Schubert Songs into schools. To make them more accessible the german text has been translated into English. It was very interesting to hear Roddy explain how singing them in English allows him to interpret them in a more effective way.
You can find out more about this interesting project in the YouTube video below.
Another highlight for me was the Friday evening evensong service held in the school chapel. This would have always been a pleasure as the evensong 'ritual' is so calming and reassuring and of course a musical delight. But at Bromsgrove it was a double pleasure as they have a Viscount Prestige 100 in the chapel.
The evening finished with a splendid meal in the school dining room, a Bromsgrove Balti! What a nice event. We will be back again next year.
I have had a passion for church organs since the tender age of 12. I own and run Viscount Organs with a close attention to the detail that musicians appreciate; and a clear understanding of the benefits of digital technology and keeping to the traditional and emotional elements of organ playing.