Last year's tutorial series on Psalms and Anthems, with Ralph Allwood and the Old Royal Naval College Chapel Choir, was so successful that it was decided to continue with a similar theme in 2023.
Complementing roles of Director and Organist
This year's series emphasises the partnership between director and organist, showing how the roles complement each other when creating excellent church music. The organist for this series was Jonathan Eyre, and the series is illustrated with a number of classic examples from the repertoire.
The works include the mass movements, Gloria and Sanctus, classic anthems such as Elgar's monumental "Give unto the Lord", and a section from Fauré's Requiem. Each episode brings out a different aspect of choral performance and organ accompaniment, in most cases including a detailed rehearsal during which Ralph leads the choir through to a full rendition.
Well established production team
There is a well-established production team for these tutorial sessions, and it was a pleasure once again to bring it together for a recording session at the Old Royal Naval College Chapel in Greenwich on a bright day in January. James Atkinson, with his assistant Andy Heathcote, was responsible for the excellent camera work, this time employing a full six cameras to capture every detail of the action from a variety of angles. Adrian Lucas masterminded the sound recording, while Francis Rumsey acted as session director.
The organ used during these recordings is a Viscount Regent 356, a physical modelling digital instrument, which was installed in the chapel a few years ago to stand in for its ailing but historically significant pipe organ. The location of the console near to the choir at the front of the chapel makes for relatively easy interaction between conductor and organist.
During each of the rehearsals Ralph Allwood brings his long experience and deep knowledge of the choral repertoire to bear, while working hard to draw every nuance of the performance from the singers. He also explains a little of the background to each piece by way of introduction. In order to illustrate the partnership with the organist, Ralph and Jonathan were encouraged to discuss musical points during the rehearsal, probably exaggerating what would take place during a service rehearsal. The result is designed to be instructive to organists and choir directors preparing such works for performance.
Organ Tutorial Episodes
The episodes will be released in the following order, where possible at a liturgically appropriate time of year.
John Stainer – How beautiful upon the mountains
Franz Schubert – Gloria from Mass in G
Edward Elgar – Give unto the Lord
Louis Vierne – Sanctus from Messe Solennelle
Josef Haydn – The heavens are telling (from The Creation)
Gabriel Fauré – In Paradisum (from the Requiem)
Herbert Howells – A Hymn for St Cecilia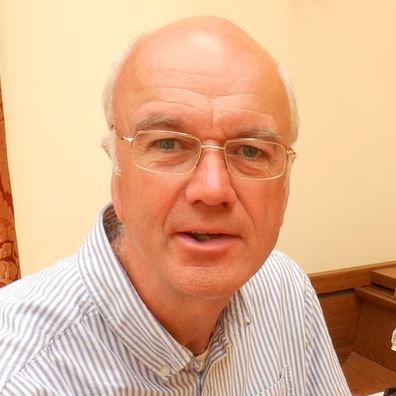 I'm a retired academic, with a background in music and audio engineering. I'm currently a consultant for Viscount & Regent Classic Organs, as well as being a freelance organist, including a role as organist/choirmaster at St Mary's, Witney. I sing bass with Oxford Pro Musica Singers and the Cathedral Singers of Christ Church, Oxford.